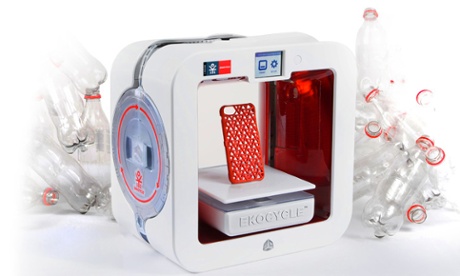 Perhaps most famously known for his appearance on the BBC's hit television series The Voice in the United Kingdom, Will.i.am is now venturing into the 3D printing world with an interest in 3D System's latest creation: the Ekocycle Cube 3D Printer. This device will print materials using filaments made from recycled Coca Cola bottles.
The Ekocycle Cube
The Ekocycle Cube is a printer that's being made by 3D Systems, which is one of the most well-known names in 3D printing in the United States. The American manufacturer announced that Will.i.am will serve as the project's chief creative officer and he began this post in January 2014. Coca-Cola is also a leading partner in the project, who stepped up to the plate after an existing venture with another unnamed musician fell through and didn't come to fruition.
It's believed that the Ekocycle Cube will launch during the third quarter of 2014 with an estimated launch price of around $1,200 USD. The base unit will also include plastic filaments, which are the equivalent of ink used in inkjet printers, partly made from Coca Cola's recycled bottles so that users can make use of the device right away. The company states each cartridge will contain at least 25% recycled materials, which is around three average sized Coke bottles.
Will.I.Am's Support
This project is perhaps one of 3D System's most branded ventures and allows users to print objects directly from a catalogue of items personally designed by Will.i.am. The singer is currently in the process of creating 25 fashion-related accessories for buyers of the device, which will all be compatible with the printer from the time it launches and be printable as soon as users install the device at home.
Will.i.am is no stranger to this sort of project either. In January 2011, the singer served Intel as its "director of creative innovation" and also had a stake in Beats Electronics, which was later purchased by Apple for roughly $3 Billion USD. He's also had a range of iPhone-related accessories and has continuously been revamping his own branded products since their launch in early 2013.
Appearance with Alan Carr
Famous British comedy and talk show host, Alan Carr, has also had a stake in this project and has publicly supported the venture by allowing Will.i.am to promote it on his talk show. In April 2014, Will.i.am made a guest appearance on the show while sporting a prototype wristwatch that was made using 3D printed materials. The singer told the audience ".. I started the project myself. I funded it, used my own money to develop it."